Best Considerations for Summertime During COVID-19 Using the ACT Bullseye
Last week the focus was on considerations for summertime during COVID-19 using the ACT matrix (links to blog) as a tool. This week we will discuss narrowing those topics using the ACT Bullseye, because there are many ways to spend our summer, even with social limitations in place.
For the person seeking self-care: Listen to your body. Take a nap in the middle of a Wednesday. Find your balance. Say "no" to a night of playing games with friends on Zoom. Say "yes" to things that make you feel good, perhaps playing video games and not feeling guilty. Do that thing that makes you calm. Feel comfortable knowing that you are allowed to find balance.
For the person seeking personal development: Research self-management. Create a new schedule that fulfills your personal, professional, self-care, and family commitments. Find a topic on Coursera and take that class.
For the person seeking professional development: You're in luck, webinars are everywhere. Get on LinkedIn and network. Participate in social media discussions to further the field. Advance yourself with your professional knowledge so that you come back from the summer stronger than ever.
For the person seeking mental stimulation: Pick up a socially distant sport (e.g., disc golf, tennis, distance running, golf). Read a good book. Start your own podcast. Find your perfect calming hobby (e.g., macramé, painting, gardening, etc.).
For the person that wants to work on all of these domains: Learn to use the Bullseye. Use the ACT matrix. Repeat.
After my first time completing the ACT matrix, I found myself developing more goals than my Planner could fit. I wanted to read not only professional development books but read for leisure. I wanted to go to the gym at least 4 days per week but also do yoga 7 days per week. I wanted to create meal plans on Sundays for the week. I wanted to dedicate more time to my loved ones. I wanted to finish my Ph. D. and excel at my job. Little did I realize that I left no time for myself.
After determining your values, you may need to scale back and decide what to focus on. You can begin by creating a bullseye (see Figure 1 below). On each of the four arrows, you choose a different value and write it down. In the sample below, the values chosen were general; however, it may be helpful to be more specific, referencing some values you took from using the ACT matrix. The center of the bullseye signals that you are very close to where you want to be in that domain. The outer most circle signals that you are far from where you want to be in that domain. You will place a mark on the line closest to where you fall within the bullseye and that domain. In this particular example, the person who created the matrix seems to be close to living their values within the professional development/education domain; however, relationship building and family time could improve, self-care and leisure activities definitely need more attention, and personal health seems to be far from the end goal. Using this sample, time spent over the summer may best be spent focusing on personal health, self-care and leisure activities, and relationship building in order to build up those areas.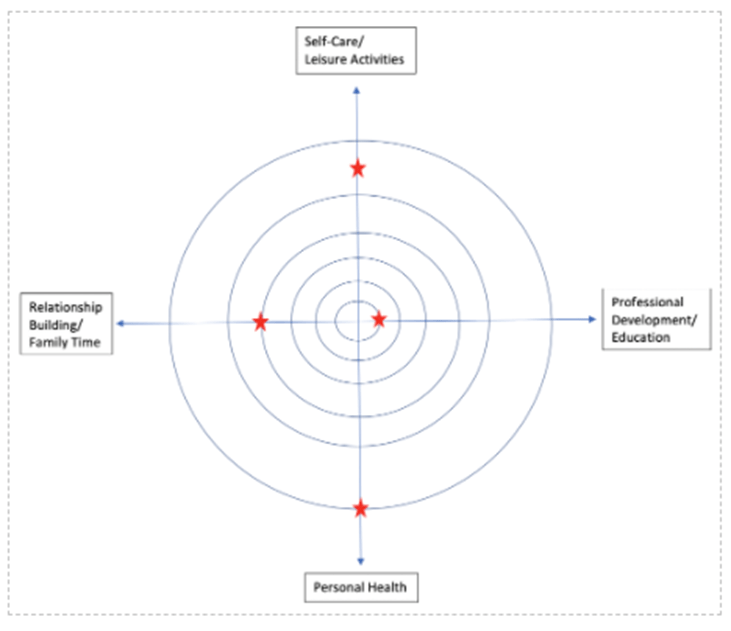 At this point, you can move back and forth between using the ACT Bullseye and the ACT matrix to help you identify your values, but also narrow down the goals that are most important to you. You may find this changing day to day or week to week and that's okay. Just as our client's preferences change, ours do to and it is important to listen to ourselves and make values-based goals so that we can practice committed action in our own lives!
While this is not an exhaustive list, here are some ideas to help you in using the ACT Bullseye to generate activities for yourself. Many of these activities can cross domains. What is self-care for one is personal development for another, and what is personal development for one, may be professional development for another.
Explore your healthiest you!

Cooking
Meal Planning
Gym
Hiking
Water Sports

Learn something new!

Professional Development Webinars
Hobbies (use that sewing machine that you never unboxed
Cooking

Pick up an old hobby!
Relationship Building
Video Conferencing
Online games for family night
Watching a movie together on Netflix
DYZ
Resources:
Association for Contextual Behavioral Science- https://contextualscience.org/act
Coursera- https://www.coursera.
Coursera- https://www.coursera.org 21 Examples of Personal Development Goals for a Better You- https://medium.com/@iosipratama/21-examples-of-personal-development-goals-for-a-better-you-7dddcbc2f1b1